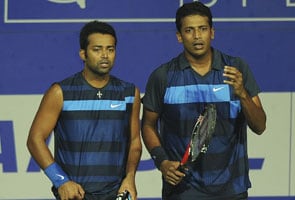 The Indian Express duo of Leander Paes and Mahesh Bhupathi survived a super tie break to clinch their first doubles title on their reunion and fifth at this venue at the ATP Chennai Open tennis tournament here on Sunday.
Paes and Bhupathi played with determination to start the season with a win ahead of the Australian Open, which remains the lone Grand Slam tournament that the duo has not won since their united effort on the ATP Tour from 1997 to 2002.
Having played a tough match last night to set up a final against the Dutch-American pair of Robin Hasse and David Martin, Paes and Bhupathi came out victorious with a 6-2, 6-7 (3), 10-7 win.
Playing before a capacity crowd, the Indian duo raced to a 6-2 first set win. But the Dutch-American pair made amends with better coordination to take the second set.
It was a similar story to yesterday's semifinal as the Indians were not only surprised by their rivals aggression but the manner in which they excelled in service returns for points, especially Hasse, who also succeeded with net play, which is the Indians forte.
Hasse and Martin were a shade better to their strong rivals, but both dished out big tennis at vital times as ratio-wise they had 73 per cent success to hosts' 52 on points won on first serve returns.
All through the match, Paes returned to the body of Martin for decisive points whenever he tried to come up front for his returns, while Bhupathi was at his best with his backhand volley returns.