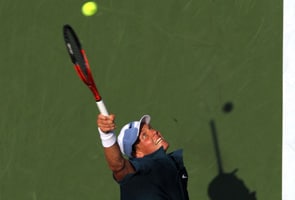 Top seed Tomas Berdych of Czech Republic and former champion and seventh seed Xavier Malisse of Belgium sailed into the semi-finals of the Aircel Chennai Open ATP Tennis tournament with convincing wins here on Friday.
Berdych was not at his best but did enough to score vital points and get the better of unseeded Blaz Kavcic of Slovenia 6-3, 6-3 in a centre court match that saw seven breaks in all.
Winners of the 2007 edition in both singles and doubles event, Malisse was focused during his 6-0, 6-2 win over Germany's Bjorn Phau. It took Malisse 71 minutes to see off the German.
"I played really well from the start of the match. We had a long game at 2-0 in the first set which I managed to win and after that it was tough for him to come back," Malisse said.
This was Phau's third successive loss to Malisse in as many meetings ? Malisse had dropped just 12 games in seven sets to Phau, who never progressed beyond the quarterfinal stage in his six appearances here.
In stark contrast, world number six Berdych, having beaten stars like Roger Federer and Rafal Nadal in recent times, struggled even with his serves.
Six of the service breaks came in the second set as the rivals outwitted each other in lapses. Berdych broke Kavcic's fourth game when the Slovenian yielded points with four double faults and then led 4-2 before clinching the first set.
Aiming for a maiden semi-final berth here, Kavcic's hopes went up in smoke once Berdych found his rhythm midway into the second set.
The rivals traded breaks in the next four games. Berdych, who held his serve in the eighth game, went on to win the match with a break in the ninth.
"I started pretty solid but then some mistakes crept into my game at the beginning of the second set. Maybe, I was forcing my shots a little too much, especially from the side playing with the wind. I needed to be a little bit more patient," Berdych said.
"But on the positive side, I'm happy I could break him back when he broke my serve and held out to finish the match in straight sets. For my next match, I think I will need to maintain my concentration and keep the pressure on my opponent," he said.