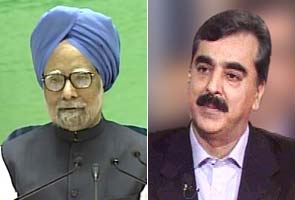 Islamabad:
The VIPs headed to Mohali for the World Cup's most-wanted match are queuing up...to land their private planes.
Sources in the air force say that up to 46 applications have been received so far, requesting landing clearances for the Chandigarh airport. The requests range from an A320 to smaller private planes.
(Read: Rush in the skies for India Pakistan semi-final in Chandigarh)
Sources say most private planes will be asked to fly back to Delhi after their passengers disembark. Others may have the option to park at the Dehradun or Amritsar airports.
Two VVIPs who will have far greater concerns to address are the Prime Ministers of India and Pakistan. Sources say Dr Manmohan Singh will receive Pakistan's Prime Minister Yousuf Gilani at Mohali stadium at around 2pm. After the match, he will host a dinner for his Pakistani counterpart, most likely at the stadium itself. No delegation talks are scheduled for now.
Gilani will fly into Chandigarh directly from Pakistan at 10.30 am. Sources have told NDTV that he will be accompanied by Pakistan's Information Minister Firdous Ashiq Awan, Interior Minister Rehman Malik, Sports Minister Engr Shaukatullah and MoS for Foreign Affairs Hina Rabbani Khar.
In Pakistan on Monday, Gilani explained his decision to attend the Mohali match.
"The World Cup semi-final between India and Pakistan is a timely opportunity for the two countries to show the world that they can play together as well as deliberate together on issues of national importance," he said.
Sources have told NDTV that India's National Security Advisor, Shiv Shankar Menon, will be accompanying the Prime Minister to Mohali.
The ground for the meeting has been laid, at least partly, by the meeting of the Home Secretaries from India and Pakistan on Monday.
Wary, perhaps, of provoking hype and the expectation of big-ticket announcements, India's Home Secretary was cautious about what was discussed. "The talks are positive and we are heading in the right direction," said G K Pillai.
(Read: India-Pak talks-Progress in the right direction, says Pillai)

Sources say that both sides discussed possible ways to share information and intelligence on fighting terror.
Old demands raised by both countries haven't melted away - India wants more information on the voice samples of the men who handled Pakistani terrorists during the 26/11 attacks in Mumbai; Pakistan wants details of the 'Hindu terror' that resulted in a series of blasts in Indian cities in 2007, and is believed to have killed 68 people travelling from Delhi to Lahore on the Samjhauta Express train in February that year.