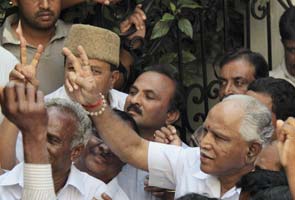 Bangalore:
A combative former Karnataka Chief Minister BS Yeddyurappa today held talks with his supporters, as he sought to give a major push to his resolve to float a regional party and claimed support of a significant section of legislators and MPs from the state.
Speaking to reporters after a three-hour meeting, a show of strength at his residence, the defiant estranged leader reiterated his decision to form the outfit and said MLAs supporting him would not destabilise the Jagadish Shettar government.
Mr Yeddyurappa is slated to formally announce the floating of the party at a public meeting in Haveri on December 10.
He claimed that 60 MLAs, 10-11 MPs and 18-20 MLAs attended today's meeting.
Water Resources Minister Basavaraja Bommai said MLAs, MLCs and MPs pledged their support to Yeddyurappa. "We are behind you (Yeddyurappa)" was the decision of the meeting.
The former Karnataka chief minister indicated that his party, once formed, may give outside support to the Shettar government.
He said while the decision has been taken on forming the party, what's left now was on how to do it smoothly. "There are several examples of extending outside support (in the country).
He said the support to Shettar government would continue. "On the other side, they (legislators and MPs supporting him) would extend cooperation in forming the party".
"As of now, the question of MPs, MLAs, MLCs resigning does not arise. We will take decision depending on situation on that day", he added.
Mr Bommai did not see participation of MPs, MLs and MLCs in the meeting convened by Mr Yeddyurappa as amounting to anti-party activity, saying in democracy everyone has the right to hold discussions. "Politics is a process".
Mr Yeddyurappa's supporters are behind him in "all the decisions", which includes formation of a political party, he said.
Since "we all" elected Mr Shettar as Chief Minister, "we will give 100 per cent support to the Government till the last day", Mr Bommai added.
Sources said at least ten Ministers participated in today's meeting.