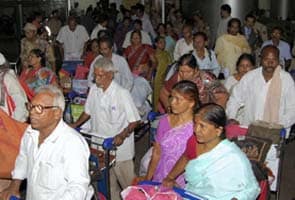 Hyderabad:
Three special aircraft arranged by Andhra Pradesh government and opposition Telugu Desam Party (TDP) brought 271 pilgrims from Dehradun last night.
While 221 passengers reached Hyderabad by two aircrafts, another 50 landed in Visakhapatnam.
The aircraft hired by the state government brought 116 pilgrims to Hyderabad while the aircraft arranged by the TDP brought another 105 survivors from Uttarakhand.
Emotional scenes were witnessed at the Rajiv Gandhi International Airport in Hyderabad as the pilgrims cried on seeing their relatives. Every survivor had a State government official and leader of ruling Congress party receiving the pilgrim who arrived in the aircraft arranged by the government.
TDP chief N Chandrababu Naidu's son N Lokesh rpt Naidu's son Lokesh received the pilgrims who came by another plane.
Mr Naidu is still in Dehradun and has decided to stay there till all the rescued pilgrims from the state are sent back.
The TDP has so far operated three special aircrafts. The first aircraft with 196 pilgrims landed in Hyderabad from New Delhi late on Monday night.
Meanwhile, another 284 pilgrims from Andhra Pradesh are still missing. They include 153 pilgrims from Hyderabad and 68 from neighbouring district of Ranga Reddy.
Fourteen pilgrims are so far confirmed dead in the floods.
Out of 2,616 pilgrims who had gone to the hill state for the yatra, 1,239 have so far returned home safely while another 933 are on way to their destinations. There are some pilgrims staying at Andra Pradesh Bhavan, the state government's office in New Delhi.
Chief Minister N Kiran Kumar Reddy, who is in Delhi, reviewed the rescue and relief measures with ministers Sridhar Babu and Uttam Kumar Reddy and senior officials.