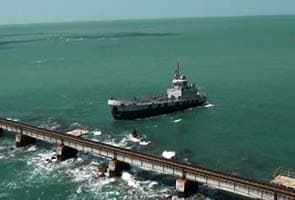 Rameswaram:
A trial run was conducted today on the railway bridge near Pamban, part of which was damaged when a barge towing a naval ship which ran aground, drifted and rammed into it.
Railway officials said an engine with two bogies would be pressed into service soon to further assess the strength. A new pier would be constructed in place of the damaged one and till then trains would be operated on a temporary steel pier.
Meanwhile, Additional Director General of Police Shylendra Babu said the ship had committed a major violation by not anchoring three nautical miles off the bridge and obtaining the Port Officer's permission before crossing it.
The new ship bound for Karwar in Karnataka had run aground on January 10 while being towed from Kolkata when strong winds swept the ship and barge close to shore near Pamban bridge connecting the island with mainland.