HYDERABAD/VISAKHAPATNAM:
Navyashree Goud had been feeling low for a while. She hadn't been doing as well in her mathematics class as she would have liked. But she kept up the effort. A few days back, her teacher gave up on her and taunted that she could die than score poor marks. The 16-year-old gave up too. She cut her wrist, hoping to bleed to death.
But she was lucky. Her parents found her bleeding just in time and rushed her to the hospital.
"I was mentally disturbed. So without telling my parents, I decided to end my life," the junior college student - as class 11 and 12 classes are referred to in the state are called - told NDTV. Her father, who nearly lost his daughter, had backed her all the way and filed a police case against the teacher in Hyderabad, the common capital of the two Telugu states, Telangana and Andhra Pradesh.
But a capital isn't all that the two states share. The list is longer.
One of them is Andhra Pradesh and Telangana's success in cornering a big chunk of seats in the country's best medical and engineering colleges. Last year, for instance, 6,744 students cracked admission tests to the country's top engineering institutes; the IIT, NIIT and IIIT. It is such stories of success that drive parents to admit their children to enroll in special coaching institutions that have been a big business.
The successful faces become the poster boys and girls to lure fresh batches of students for the teaching shops; a dark, shadow education system where success is not about learning but about cracking the entrance exams.
Parents too don't seem to notice the dark underbelly of depression and failure that remains hidden beyond the veneer of grinning faces on the posters of success.
Many simply cannot cope up with the burden of expectation and performance. Like Navyashree.
"Every parent is told, we are going to make your child number one.... every parent will listen, invest money on us... It is like a business, if you succeed, credit (for the institute). But if you don't succeed, it is your fault only," said a student in Hyderabad whose parents enrolled her to coach her for the national common medical exam.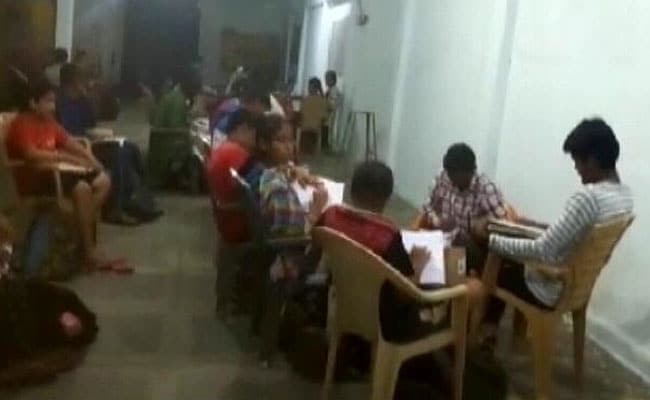 It is the same story at Narayana School and Junior College more than 600 km away in Andhra Pradesh's coastal city of Visakhapatnam. It is late evening, the hall is crowded with a bunch of teenagers but there is pin-drop silence. It is time for after-school study hours.
A routine day here for the students starts at 5:30 in the morning to 11 in the night.
"Morning 5 o'clock, warden will knock... from 5:30 classes till 11 ... it will be hell. My sister was in another institute for medical NEET exam. They will say 24 hours, you must only read and read and think of exam. Nothing else. No eating or playing," a student told NDTV the next day.
And this is just the starting point. Adding to the fear of failure in exams and being able to live up to expectations of parents, is the social pressure and humiliation by teachers, and no time to destress.
Students say public humiliation is common, with verbal and physical abuse. There have been occasions when students have recorded teachers on their mobile phone repeatedly slapping and beating a classmate.
Institutes often group students in classes according to their performance. Those who do well and score top marks, stay in A-grade class. Others who are inconsistent or get low marks in some exam get demoted to B-grade or C-grade classes.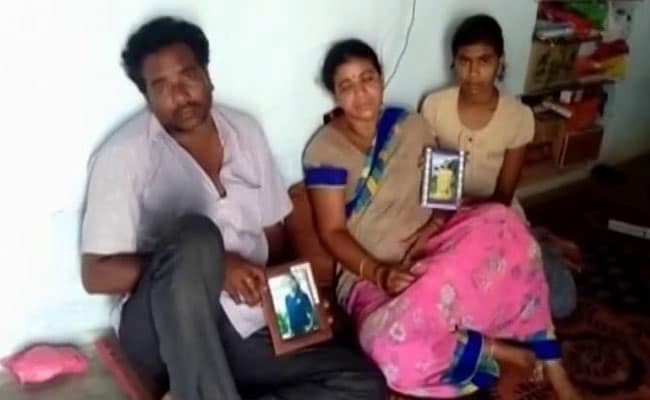 A prominent psychologist and student counsellor C Veerender suggests the faculty in these teaching shops have to take responsibility for the plight of the students, and their suicides.

It isn't a coincidence that apart from the Telugu states, the only state that reports high suicide figures is Rajasthan, home to the country's biggest coaching institutes.
"Because if student gets less marks in one test, teachers demotivate, humiliate, students become disturbed, cannot show their face to colleagues, parents who invested money on them. Most of the students who have killed themselves come from economically not well-off sections," Mr Veerender said.
Activist Achyutha Rao of child rights group Balala Hakkula Sangam said these institutions did not follow the government's directions because some of the biggest chains were run by people in power. "Every political party has leaders who are running educational institutions. So it is difficult to regulate," he said.
In Andhra Pradesh, for instance, out of nearly 10 lakh students, 70 per cent are in private junior colleges. A majority of them are run by a group founded by senior Cabinet Minister in the naidu government P Narayana.
But widespread outrage
after nearly 50 students killed themselves
in September and October forced the government to take baby steps to regulate them.
Andhra Pradesh issued rules to make it a violation for institutions to hold classes after 5 in the evening. "If you make them study on Sunday also, then also cases will be booked. The chief minister is very serious about this," Home Minister Chinna Rajappa had warned them.
In Telangana, Deputy Chief Minister Kadiyam Srihari who holds the education portfolio has also threatened criminal cases against coaching institutes, also known as corporate colleges found to exert pressure on students for results. According to Telangana government records, 194 notices have already been issued to such institutes.
As Navyashree suggests, it is a message that is yet to reach the teachers holding classes.
"The principal has given full rights to teachers to punish... Do anything to get results," she said.