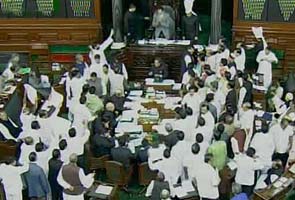 New Delhi:
The Telangana issue once again disrupted Lok Sabha proceedings on Monday, with Telangana Rashtriya Samiti (TRS) members trooping into the Well and the Opposition asking government to spell out steps it had taken on the issue with members from the region continuing their protest.
The disruptions came less than a week after eight Congress MPs were suspended for disturbing the House consistently on the Telangana issue. The Congress members, who were suspended on April 24 for four days, were not present in the parliamen on Monday.
Soon after Lok Sabha assembled for the day, two TRS - members Vijayashanti and K Chandrasekhara Rao - raised slogans for Telangana statehood, a demand endorsed by Leader of the Opposition Sushma Swaraj, who asked the government to list the steps it had taken on the issue.
Ms Swaraj said she was pained at the sight of members protesting in the Well despite questions being answered and pointed out that eight members have already been suspended on the issue.
Speaker Meira Kumar adjourned the House till noon when Swaraj sought adjournment of the Question Hour to allow Leader of the House Pranab Mukherjee to make a statement on the Telangana issue.
When the House reassembled at noon, TRS members again came into the Well raising slogans and demanding that the government make a statement on the matter.
The two members continued slogan-shouting but walked out when JD-U leader Sharad Yadav raised the issue of farmers' plight during Zero Hour. In the beginning of his speech, Yadav also extended support to the cause of separate Telangana.
Earlier, Swaraj said the issue of separate Telangana has been agitating the minds of the people of the region and the protest by the two TRS members was a reflection of the popular demand.
"These people have been waiting for the past two-and-a- half years since the Home Minister's announcement on the formation of the state on December 9, 2009," she said.
Swaraj said the Opposition was ready to support a bill for a separate Telangana state if the government brought it in Parliament.
Get Breaking news, live coverage, and Latest News from India and around the world on NDTV.com. Catch all the Live TV action on NDTV 24x7 and NDTV India. Like us on Facebook or follow us on Twitter and Instagram for latest news and live news updates.