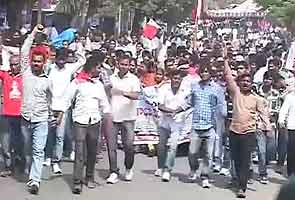 Hyderabad:
An Andhra Pradesh court has ordered the police to register cases of cheating against Finance Minister P Chidambaram and Home Minister Sushil Kumar Shinde. The court was hearing a petition accusing the ministers of cheating the people of the Telangana region.
The petition, filed by a lawyer in the Ranga Reddy district court, alleges that the two ministers have gone back on their promises. It said Mr Shinde had promised on December 28 last, at an all-party meeting, that the issue would be solved in a month. And, it said, on December 9, 2009, Mr Chidambaram, then the home minister, had announced that the process for the formation of a Telangana state would be initiated. It said Mr Chidambaram later backtracked, thus cheating the people of Telangana
Last month, Mr Shinde promised a decision on Telangana by January 28, today, but yesterday, Ghulam Nabi Azad, the Congress' man in-charge of Andhra Pradesh, said the Centre will consult again with leaders from the three regions of Andhra Pradesh. "There is no deadline, but the talks will be held as soon as possible," he said.
There have been angry protests in Hyderabad since then. At a big demonstration at Hyderabad's Indira Park today, M Kodandaram, chairman of the Telangana Political Joint Action Committee or TJAC, said, "It shows the anger people have against people in Delhi. They should come out with a statement in favour of Telangana. They have cheated us because they promised Telangana but didn't give us. That is why the case has been registered against them and an investigation shall happen on them. This shows the outrage of the people."
Mr Chidambaram's surprise midnight annoumcement in 2009 that Telangana would be a state on its own had come after a lengthy hunger fast by K Chandrashekhr Rao of the Telanagna Rashtriya Samiti found huge support. But there were violent protests in the non-Telangana areas - Rayalseema and coastal Andhra; many parties which had backed the division of the state rescinded their support. The decision to create a new state was suspended. (Read-
Telangana protesters clash with police: Top 10 developments
)
The Centre has since been holding discussions with all stakeholders on the issue, which is both politically and emotionally sensitive. Last month, representatives of eight parties in the state were invited to Delhi for an all-party meeting at which Mr Shinde promised a decision by January 28.
(with inputs from Agencies)