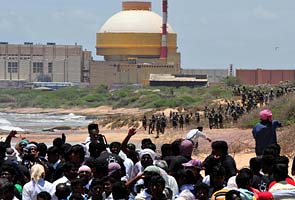 New Delhi:
The Kudankulam Nuclear Power Project (KNPP) will start its production by the first week of December and the first tranche of entire 1,000 MW of power will go to Tamil Nadu, Union minister V Narayanasamy said today.
He said enriched uranium has been fed in the core of the vessel and the lid was closed. "Now, the vessel is being pressurised. After that the trial run will start. That will go for about 20 days. Thereafter the production is likely to start. Probably in the end of November or first week of December," he told PTI in an interview in New Delhi.
Citing letters from Tamil Nadu Chief Minister Jayalalitha to Prime Minister Manmohan Singh on power shortage, the Minister of State in the Prime Minister's Office said the "entire 1,000 MW (of power from the plant) has to be given to Tamil Nadu".
India's atomic power plant operator, Nuclear Power Corporation of India Ltd is setting up the plant at Kudankulam in Tamil Nadu's Tirunelveli district.
Mr Narayanasamy said the Centre is getting support from ruling AIADMK on the project. He said since law and order is a state subject, the state government has to support us for the purpose of providing security to the plant.
"Therefore I said the DMK has supported us (as the project started when they were in power in the state). They are supporting us. Now the AIADMK after coming to power, they are also supporting us for the project. Therefore, we have support from both of them. This is what I said. But it was twisted by the media," the minister said.
His reaction came on media reports quoting Mr Narayanasamy that DMK has initially supported the Kudankulam power project, but later backed out. Rejecting the report, Mr Narayanasamy said, "So many have tried to divide Congress and DMK and now it is media's turn.
"We have to carry state government with us. Therefore the state government is supporting (on Kudankulam). On the nuclear project they are supporting us."