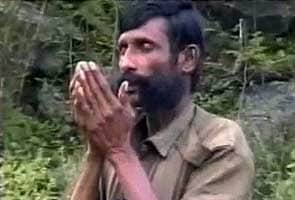 New Delhi:
A Tamil film based on the life of notorious sandalwood smuggler Veerappan can be released, the Supreme Court said today.
The producer of "Vanayuddham" has to pay 25 lakhs as compensation to Veerappan's wife, the judges ruled. She had objected to some scenes in the film.
Based on her petition, the movie's release had been stopped by the Madras High Court in September, but earlier this month, it said the film could run in theatres after film producer AMR Ramesh agreed to delete some scenes.
Veerappan's wife had appealed against that verdict in the Supreme Court.
In addition to the Tamil version, the biopic has been produced in Kannada and Telugu.
Veerappan was killed in a police encounter in 2004 in Tamil Nadu. For more than two decades, he managed to avoid being arrested by the police forces of Tamil Nadu and Karnataka, becoming India's most-wanted bandit.
In addition to poaching hundreds of elephants and smuggling sandalwood and ivory, he was involved in the killing of more than 150 police and forest officials. His gang abducted famous Kannada movie star Dr Rajkumar and held him hostage for more than three months. The actor was not harmed.