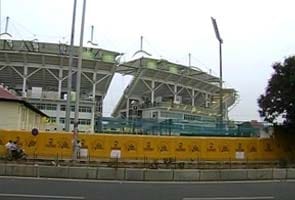 New Delhi:
In a major relief for thousands of cricket fans with valid tickets, the Supreme Court today allowed de-sealing of three stands at the MA Chidambaram stadium in Chennai for today's IPL match between Chennai Super Kings and Delhi Daredevils.
The city municipal corporation had sealed the I, J and K stands on Sunday after the Supreme Court vacated the stay granted by the Madras High Court in February. These stands do not have building approval.
"In the facts and circumstances of the case that tickets have been sold prior to the interim order of this court in respect of three stands - I , J and K - and in view of the undertaking that these stands shall not be used without permission of authorities and this court we allow the application," the bench said today.
The Tamil Nadu Cricket Association today assured the top court that the three stands with 12,000 seats will not be used in any other match without its permission.
The TNCA said it had obtained permission from the Chennai Corporation to use them during cricket matches till May 22. It had also submitted that stands be de-sealed as the tickets have already been sold for today's IPL match to be played in the stadium, which has this year already conducted seven IPL matches without any hitch.
And in further relief, the Madras High Court too stayed cancellation of structural stability certificate to Chidambaram stadium. The state government had withdrawn the stability certificate given to all the nine stands at the stadium.