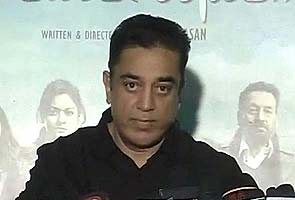 Chennai:
DMK president M Karunanidhi suggested today the Tamil Nadu government's ban on Kamal Haasan's movie
Vishwaroopam
could be the result of the actor lobbying for "a dhoti-clad Tamilian" for Prime Minister at a function in Chennai last month.
The comment was made at a function attended by Finance Minister P Chidambaram and Mr Karunanidhi and may have provoked the wrath of the chief minister J Jayalalithaa, hinted Mr Karunanidhi in a letter to party workers. The government has refuted allegations of a political motive and has insisted that a two-week ban on
Vishwaroopam
is necessary to protect communal harmony. Muslim groups who had objected to the film met with Kamal Haasan today; the actor, who has directed
Vishwaroopam
, agreed to edit some scenes .
But the Madras High Court today ruled in favour of the current ban on
Vishwaroopam
; it ends on February 6.
Mr Karunanidhi in his letter also said that there is a view among a section of people that a television channel close to the ruling party in the state had asked to buy the rights of "
Vishwaroopam
", which the actor declined because the quote was much lower than what another channel offered.
(With Inputs from IANS)