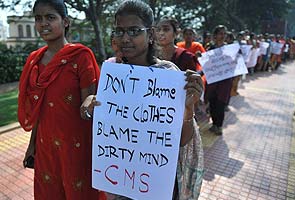 Puducherry:
The Puducherry government's idea to make overcoats compulsory for girl students in schools, which the ruling NR Congress believes could be a solution to check crime against women, has touched a raw nerve among the student community.
After a minor girl was kidnapped and raped on a bus last week, the government drew up an action plan to protect girl students. Besides the dress code, the government also planned to operate exclusive buses for girls and instructed schools to effectively implement the existing ban on mobile phones on school campuses and to institute parent-teacher associations.
On Monday, members of the Student Federation of India protested at the office of the Director of School Education. Women rights activists too are up in arms. Many say the government is tacitly making women responsible for sexual offences perpetrated against them.
Malathi Maithri, a well-known activist, told NDTV: "Again and again the ruling class only blames the women. They are making the women shoulder all the responsibility for sexual crimes against them. The dress code will not solve the problem. Our school system and family system have to be changed. The syllabus has to be changed, gender sensitive study has to be given to school children."
The Puducherry government is now having second thoughts about the dress code contemplated for girls following the public outcry. The Director of School Education E Vallavan has told the protesting students that "this has just been suggested and is being considered. When student bodies object, it's certainly subject to review and the government has no plans to thrust this."
Apart from a series of measures, the Puducherry govt also plans to introduce sex education in schools. However, many say the very idea of a dress code for girls amidst rising sexual crime against women is an indication of the regressive mindset of those in power, putting the onus on women to guard themselves from sexual offenders.