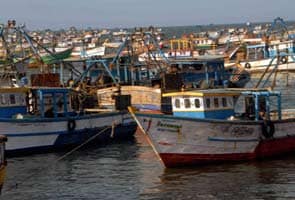 Karaikal:
Four fishermen from Puducherry have been injured in an alleged attack by Sri Lankan Coast Guard personnel, who, they say, threw chilly powder in their eyes, beat them up and dumped their equipment, worth fifteen lakh rupees in the sea.
Five Karaikal-based fishermen had ventured into the sea on March 2 in a fibreglass boat and were fishing off the Kodiakarai coast last night, when they were allegedly attacked by the Lankan personnel. They said the Lankans came up in white boats, surrounded them and then attacked.
"They confiscated our Global Positioning System (GPS) equipment, walkie-talkie and Echo sounder. They have also cut all our nets. There's nothing in our boats and we've lost equipment worth fifteen lakh rupees," said Mr Chandrakumar, one of the injured fisherman.
One fisherman managed to escape unhurt as he hid near the boat's engines, he said. They returned to shore today and have been admitted to the Karaikal General Hospital.
The attack comes a day after a 40-year-old fisherman from Karaikal was injured when Lankan Navy personnel allegedly fired at his fishing boat. The Lankan Navy had also recently arrested 16 Indian fishermen and charged them with trespassing into Lankan waters.
Tamil Nadu Chief Minister J Jayalalithaa wrote to the Prime Minister yesterday saying these incidents should be viewed as an "indirect attempt to intimidate India and browbeat it into not raising its voice" against Sri Lanka on the Tamil issue at the international fora, which is highly unacceptable.
All political parties in Tamil Nadu, including Ms Jayalalithaa's rival the DMK, which is an ally of the ruling Congress, have been bringing pressure on the Union Government to vote against Sri Lanka on a resolution expected to be moved by the United States when the top human rights body of the UN, the UNHRC, meets next week in Geneva. The resolution will focus on alleged war crimes by Sri Lankan defence forces as they defeated the Tamil Tiger rebels after a lengthy civil war in 2009.