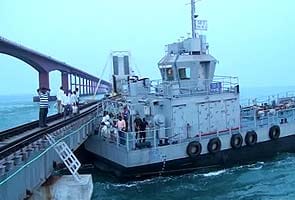 Rameswaram:
A naval barge that went adrift close to the Pamban Rail Bridge has collided on the century old structure that's vying for UNESCO's heritage status.
Initial reports suggest the damage to the rail bridge is minor. Railway PRO Mr Venugopal, based in Madurai told NDTV "the damage seems minor and we are looking into it; hopefully it shouldn't take long to set it right."
However its not clear whether the key mechanical part of the rail bridge suffered any damage due to the collision. Southern Railways has suspended rail services to and from Rameswaram as trains bound for the temple town would have go on this rail bridge. Mr Bhoopathy, Senior PRO based in Chennai told NDTV all trains for Rameswaram would stop at Mandapam Railway station".
The ship that was towing a naval barge from Kolkatta to a port near Mumbai first went aground hitting rocks on the January 10 following bad weather. It was a disaster waiting to happen as the vessel remained stuck just 50 metres away from the rail bridge. The barge that was afloat around 100 metres away hit the Pamban Rail Bridge this morning, seen as an architectural and structural marvel.
Local port authorities had deployed four fishing trawlers to rescue the ship and the barge. Speaking to NDTV last night Mr Mari Selvam, the Port Officer told NDTV "the barge is afloat and if everything goes well we should be able to tow the tug by early morning".
The Officer could not be contacted over phone after the collision.
The rail bridge built across the sea in 1913 with limited technology available then opens up on both sides to allow ships to pass through and is a major tourist attraction. It connects Rameswaram and the mainland.