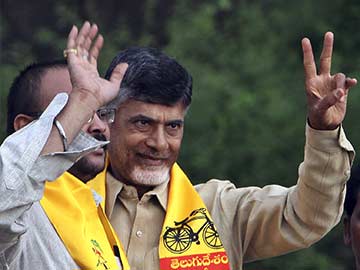 Vijayawada:
Union Home Minister and senior BJP leader Rajnath Singh today congratulated N Chandrababu Naidu on taking over as the first Chief Minister of Andhra Pradesh and hoped the new state would reach greater heights under his leadership.
"AP has now taken a new shape, politically and geographically. I am confident that AP will touch new heights under Chandrababu as it once attained glory under the Satavahanas," Rajnath said, addressing a public meeting after the swearing-in ceremony at Nagarjuna Nagar here tonight.
"Prime Minister Narendra Modi not only sent a message of congratulations for Chandrababu but also re-assured that the Centre will extend maximum co-operation for the development of AP.
Be fully confident about it," Rajnath said, quoting the Prime Minister. Rajnath said that Chandrababu was known for his capability, efficiency and administrative skills and also wished that the new state would progress well under the able leader.
Punjab Chief Minister Parkash Singh Badal, while congratulating Chandrababu, recalled the good and strong relationship Punjab enjoyed with AP since the days of TDP founder-president N T Rama Rao.
"Our relationship continues to flourish under Chandrababu," Mr Badal noted.
BJP patriarch LK Advani recalled Chandrababu's role in the formation of NDA government in 1998 with Atal Bihari Vajpayee as Prime Minister.
"It was for the first time in the country's history that such a strong government was formed with the support of Chandrababu," Advani recalled, and congratulated the Chief Minister.