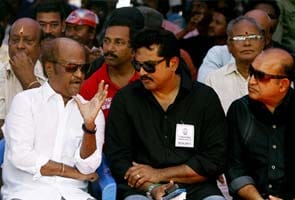 Chennai:
Around 3000 members of the Tamil Nadu film fraternity, including superstars
Rajinikanth
and Kamal Haasan, today held a hunger strike in Chennai to show solidarity with Lankan Tamils.

The South Indian artists' association adopted a resolution on the Lankan Tamils which says India should seek international independent investigations into the 'genocide' of Lankan Tamils and should impose economic sanctions against Sri Lanka. The resolution also says India should provide adequate security for Indian fishermen and that protesters should not commit suicide.

The stars were protesting under a large shamiana put up at the South Indian Film Artistes' Association at T Nagar in central Chennai. Rajinikanth was surrounded by other top actors like Prakash Raj, Danush and Prabhu Ganesan, directors, producers and others. Large-framed sunglasses dotted the venue and many handkerchiefs were out as the mercury hit 32 degrees Celsius much before noon.

The film industry, said the association president Sarath Kumar, was endorsing the demands made in a resolution passed by the Tamil Nadu Assembly last week. There was no film activity today. (Read: Sarath Kumar's blog for NDTV.com)

The film stars today added their voice to protests that have been on in the state for days now, with all major political parties and students demanding that the Centre take a strong stand against Sri Lanka for its alleged war crimes in the final months of the civil war that ended when defence forces crushed the separatist Tamil Tigers in May 2009.
So emotive is the issue, that the DMK pulled out of the UPA coalition at the Centre last month, accusing India of watering down a UN resolution against Sri Lanka; India voted against Sri Lanka, but the Tamil Nadu parties say it let down Sri Lankan Tamils by failing to persuade the United Nations to use stronger language against the island nation and by not pushing for an independent rather than an internal inquiry into the alleged war crimes.
The resolution, moved by Chief Minister J Jayalalithaa, demands India move a UN resolution seeking a referendum on a separate Eelam among Tamils in Sri Lanka.
(Read: Tamil Nadu assembly adopts resolution on Sri Lanka)
The issue has split over to sports too, with Ms Jayalalithaa ensuring that no Sri Lankan cricketer of official will be involved in Indian Premier League (IPL) matches to be played in Chennai.