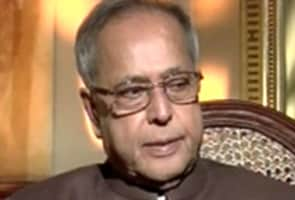 Tirupati:
President Pranab Mukherjee will visit Tirumala, the famous hill abode of Lord Venkateswara near here, tomorrow on a 16-hour spiritual sojourn.
During his maiden visit after assuming the highest office, Mukherjee would offer worship at three shrines, including the ancient hill temple, temple sources said.
The President would arrive at the Renigunta airport near Tirupati at 8 pm on Saturday and immediately proceed to the hills by road.
After an overnight stay, Mukherjee would offer worship to Lord Venkateswara at the crack of dawn on Sunday. The President would first pray at the Adi Varahaswamy temple situated on the banks of the Holy tank close to the shrine of Lord Venkateswara, the sources said.
Later, the President would inaugurate a pilgrim guest house complex -- Nandakam Guest House -- constructed at a cost of Rs 36 crore.
Mukherjee would later spend some time with students of the 130-year-old Sri Venkateswara Veda School on the hills, they said.
Before winding up his pilgrimage, Mukherjee would also offer worship at the Sri Alamel Mangai temple in Tiruchanur near here, they added.
Tight security arrangements are being made in view of his visit, the sources added.