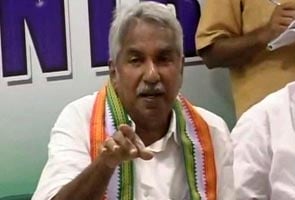 Thiruvananthapuram:
A day after the CPI-M wanted the precious jewels and priceless assets of the Sree Padmanabhaswamy temple to be made a public possession, Chief Minister Oommen Chandy on Friday said that it cannot be and the property belonged to the temple only.
"This cannot be seen as a public property, instead it is the property of the temple and its devotees. The case is being heard in the Supreme Court and whatever they say, we will abide by that,"Mr Chandy told reporters in Thiruvananthapuram .
On Thursday, Communist Party of India-Marxist (CPI-M) State Secretary Pinarayi Vijayan came down heavily on senior counsel Gopal Subramaniam, who has been appointed by the Supreme Court as the amicus curiae. Mr Vijayan charged him of being loyal to the erstwhile Travancore royal family.
"The very fact that the Travancore royal family faithfully looked after all the precious wealth at a time when there was no media snooping or a democratically elected government here, in itself is a testimony to their honesty and integrity," said Mr Chandy.
According to Mr Vijayan, all the items that were not used as part of the temple rituals should be treated as public property because it came as an offering when the royal family conquered other kingdoms here.
"It's strange that the amicus curiae is being questioned by the CPI-M. He was appointed by the Supreme Court itself," said Mr Chandy.
In July last year, a Supreme Court committee stumbled upon six vaults in the temple and found a treasure of worth over Rs.1 lakh crore from five vaults.
The sixth vault B is yet to be opened.
Currently, the affairs of the temple are run by an executive committee which has members from the temple, besides representatives from the royal family.
Stocktaking of the temple's treasures started after T.P. Sunderarajan, a former Indian police Service officer, approached the apex court alleging mismanagement of temple affairs.
Sunderarajan passed away in July last year.