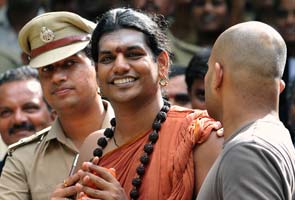 Madurai:
The Tamil Nadu police have registered a case against controversial self-proclaimed godman Nithyananda and two others for providing devotees 'holy' water allegedly mixed with drugs at the Madurai Adheenam, the oldest religious centre in South India.
When the case came up for hearing before a Madras High Court bench today, the government advocate said police had registered a case under relevant sections against Nithyanandha and two others on a complaint by petitioner M Solaikannan of the Hindu Makkal Katchi.
Mr Solaikannnan said he had filed the petition as police had not acted on his complaint to test the nature of the water given to the devotees and to take necessary action.
The self-proclaimed godman had shifted base to Madurai recently after his Bangalore ashram was sealed earlier this month.
He first ran into trouble in 2010 when a sex tape allegedly of him with an actress aired on local channels. He was arrested on charges that include unnatural sex and was later given bail. More recently, an American woman said he had sexually exploited her for several years at his ashram.
Meanwhile, security has been tightened around the near 1500-year-old Madurai Adheenam following a bomb threat.
Police said the letter, written in Tamil, was received by the authorities at the religious centre on Thursday and it threatened that a bomb would go off on June 27.
The authorities handed over the letter, signed by one Parisutham, to the police.