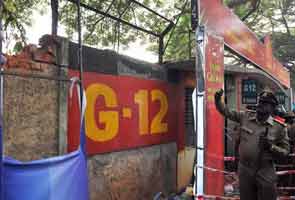 Bangalore:
An Indian Mujahideen (IM) operative, allegedly involved in the blasts at Chinnaswamy cricket stadium two years ago, has been arrested, police said on Thursday.
Kamal Hassan, alias Bilal was arrested in Kolkata on April 10 during a manhunt to nab the blast mastermind Yasin Bhatkal, City Police Commissioner Jyothiprakash Mirji said in a statement.
Two low-intensity explosions near a packed Chinnaswamy cricket stadium less than an hour before an IPL match left 15 people, including five security men injured.
Hassan, 24, a native of Bihar, was brought to Bangalore and produced before the jurisdictional magistrate which remanded him to police custody, Mirji said.
Hassan, a member of Indian Mujahideen's Bihar cell, was a close associate of Bhatkal, who is in charge of IM's urban operations in India.
Hassan was a part of the conspiracy hatched in Bihar and Delhi in 2009, of which the Chinnaswamy Stadium blasts on April 17, 2010, was a part, the Commissioner said.
Hassan was indoctrinated to Jihadi activities by Bhatkal and given the task of looking for hideouts in Bihar and Delhi for all IM operatives involved in the stadium blasts and the attack at Jama Masjid in Delhi on September 19, 2010, he said.
Being an expert in making ammunition and cartridges used in firearms, Hassan worked in a weapons factory which belonged to Bhatkal's father-in-law in Delhi.
Hassan and Bhatkal had been to Bihar, Kolkata, Nepal, Maharastra, Mumbai, Uttar Pradesh, Delhi, among other places. Efforts are on to apprehend Bhatkal, Mirji said.