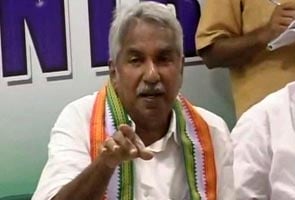 Thiruvananthapuram:
The Kerala Pradesh Congress Committee today came out in support of Chief Minister Oommen Chandy, whose office has come under cloud in the solar scam, saying there was no need for his resignation on the issue.
"Congress will launch a counter campaign to expose the nefarious designs of CPI-M-led Left Democratic Front opposition to tarnish the image of the Chief Minister and United Democratic Front government," state Congress president Ramesh Chennithala told reporters.
Justifying Mr Chandy's decision not to quit on the issue, Mr Chennithala said the opposition was not able to come out with a single evidence to link the chief minister in the scam.
"There was no need for Mr Chandy to resign for certain mistakes committed by some of his staff," he said, claiming LDF protests were with an eye on coming Lok Sabha polls.
Referring to the scam, he said it was a clear case of cheating and the special investigation team set up by the government was doing its job efficiently.
Ruling out any change in leadership, Mr Chennithala said the main agenda now before congress in the state was to take on the challenge of LDF and prepare itself for the coming Lok Sabha polls.