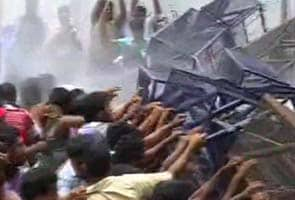 Thiruvananthapuram:
Protesters clashed with police outside Kerala Assembly in Thiruvananthapuram today amid demands that Chief Minister Oommen Chandy should resign 'on moral grounds' for allegedly misrepresenting facts of his former minister KB Ganesh Kumar, who resigned after being accused of domestic abuse by his wife.
Police fired tear gas shells and used water cannon after the protesters, led by the youth wing of opposition CPI(M), hurled stones at the police and tried to break through the barricades.
The CPI(M)-led Left Democratic Front staged a walk-out today demanding the Chief Minister's resignation accusing him of misleading the House that he had not received any complaint from Mr Kumar's wife.
Leader of Opposition VS Achuthanandan said that it was unfortunate that the chief minister was defending his former cabinet colleague. "The accused is still seated in the minister's chair and the victim is being tarnished. And you claim to have done justice? Mr Chandy is protecting a man who beat his wife. Mr Chandy should resign," Mr Achuthanandan said.
However Mr Chandy rejected the allegation and said, "She came to me yesterday and I asked her if I had cheated her. She said that when she met me the first time, she said that she had left her written complaint in her car. She met me on March 6, but the letter she gave me was dated March 7."
Mr Kumar belongs to the Congress (B) and was Forest Minister in the coalition government led by Mr Chandy. He said last evening that he would not quit office despite his wife's allegations against him, but resigned a few hours later declaring that he did not want to embarrass the chief minister.