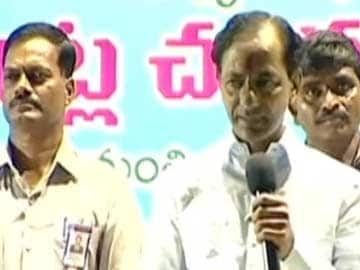 Hyderabad:
Three months into his term as Chief Minister of India's youngest state Telangana, K Chandrasekhar Rao is at loggerheads with journalists, who have accused him of trying to "gag the press." Mr Rao has threatened to "bury" two TV channels for "insulting the Telangana assembly, its MLAs, and Telangana's self-respect."
The two Telugu channels - TV9 and ABN Andhra Jyoti - have been protesting for three months against what they call an unofficial ban on their transmission in Telangana.
TV9 has apologised for a satire on the Chief Minister and his ministers that it aired; ABN Andhra Jyothi said it has aired no offensive content and will not apologise and also claims that it is being targeted for exposing alleged misdeeds of ruling party members.
"We will bury them some 10 km. We won't hesitate to break their neck and then throw them out," KCR said in a public speech yesterday, adding that "If they want to operate here, they should salute and respect the people of Telangana.''
"It is a direct warning to the entire media. Not just ABN and TV9 but the entire media that if you want to work here, you have to go and salute everyday to get permission," said V Radhakrishna, Managing director of ABN Andhra Jyoti.
KCR's daughter Kavitha, who is member of Parliament from his Telangana Rashtriya Samiti or TRS, did not directly comment on her father's controversial remarks, but defended him, saying, "It is not fair to play one part of the story. You must watch what these TV channels say about the elected government. They use foul language. Serious legal action must be taken against the two channels."
She emphasised that the state government had no role to play in the TV channels being virtually blacked out in the state. The government says cable operators have acted of their own accord.
"We have not threatened any MSOs (cable operators)...they must have been very hurt by the content,'' said another TRS lawmaker B Vinod Kumar.
But a senior journalist D Amar rebutted that, saying. "MSOs have no control over content. In fact, no one can control or dictate content in any channel or publication. There are others way to correct erring channels.''