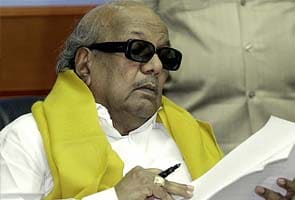 Chennai:
The DMK will not participate in the Diamond Jubilee celebrations of the Tamil Nadu assembly on Friday, where President Pranab Mukherjee will be present as the chief guest.
DMK chief M Karunanidhi said, "The celebration is organised without respecting others; there is no respect for DMK and hence the party will not attend the function."
The celebration will take place at the historic Fort St George.
During his tenure, former Chief Minister Karunanidhi had constructed a new assembly complex spending more than thousand crore rupees. But Chief Minister Jayalalithaa had decided to scrap the project and announced that it would be converted into a multi-specialty hospital. A legal battle is currently underway in the Madras High Court over this issue.