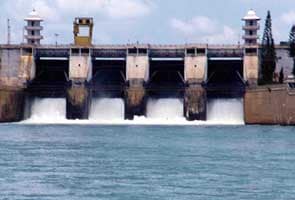 New Delhi:
The Cauvery Monitoring Committee (CMC) on Thursday directed Karnataka to release 4.8 tmc of water to Tamil Nadu over the next fortnight even as it refused to get into the issue of settling previous shortfall raised by the latter.
The CMC, headed by Secretary Water Resources, said Karnataka will have to release 4.8 thousand million cubic feet of water between November 16 and 30.
Sources privy to the eight-page order said Karnataka may not have to release the entire 4.8 tmc water as it had released additional supply for neighbouring Tamil Nadu in the previous fortnight.
In a written submission, Tamil Nadu had on November 2 demanded that its shortfall of 52.5 tmc during the just-concluded South-West monsoon season be settled by the panel.
But the Committee refused to get into the issue as there was lack of consensus on period of the monsoon season.
While the order does not mention how the dispute can be settled, sources in Karnataka inferred that the two states will have to approach the Supreme Court which is already hearing the two sides on Cauvery water sharing dispute.
During the previous fortnight, Karnataka was asked to release 4 tmc of water to Tamil Nadu.
On Supreme Court orders, the CMC had asked Tamil Nadu to make a written submission before the panel by November 2 on issues it wants to be addressed.
"We hereby direct CMC to examine all issues as may be raised on behalf of the states and make recommendations," a bench of justices D K Jain and J S Khehar had said in October.
The bench said both the states shall comply with all the recommendations made by the CMC in letter and spirit.
The Monitoring Committee consists of Union Water Resources Secretary as Chairperson, chief secretaries and chief engineers of the basin states and Chairman, Central Water Commission as members.