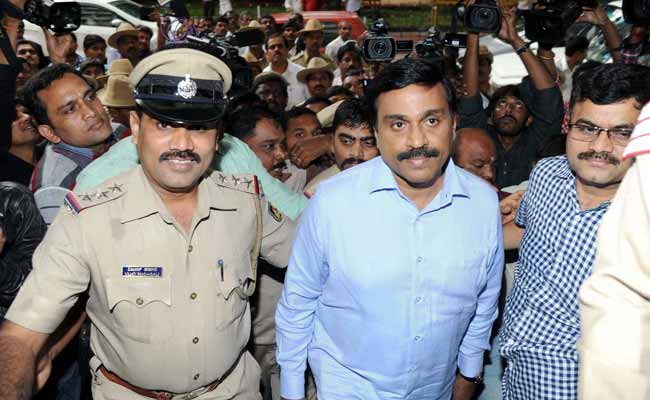 Bengaluru:
Police officials from the anti-corruption ombudsman in Karnataka, the Lokayukta, reportedly carried out raids at the home and office of former minister and mining baron Gali Janardhan Reddy in Bellary this morning.
A 42-member team of officials from the anti-corruption watchdog was involved in the operation, a Lokayukta official said. Documents pertaining to exports of allegedly illegal iron ore and property were seized during the raids led by Lokayukta Deputy Superintendent of Police Sampath Kumar, the official said.
Earlier, last month, Mr Reddy, a member of the state legislative council and a former BJP minister, had been arrested by the Lokayukta police's Special Investigation Team, on charges of illegal extraction and transportation of iron ore, cheating, misappropriation and abuse of power by a public servant.
Speaking to reporters while the raids were on, BJP lawmaker B Sriramulu, a one-time close associate of Mr Reddy, alleged that the raids were nothing but "political vendetta" by the Siddaramaiah government. Mr Reddy was a BJP minister in the BS Yeddyurappa government. He later left the BJP and formed the BSR Congress party.
Mr Sriramulu alleged that the Congress government in the state was using Lokayukta with "political motives". He said he would soon file a complaint with CBI against some close associates of the Chief Minister and his son, alleging their links with illegal sand mining.
SIT officials had called Mr Reddy for questioning on November 20 after which he was arrested in an illegal mining case involving his Black Gold Iron Ore Mines and Minerals company.
The Supreme Court, on January 20, had granted bail to Mr Reddy, in another illegal mining case involving his Obalapuram Mining Company or OMC. He had, at that time, already spent nearly three years in jail.
In the case, the company has been accused of changing mining lease boundary markings and indulging in illegal mining in the Bellary Reserve Forest area, spread over Bellary in Karnataka and Anantapur district of Andhra Pradesh.