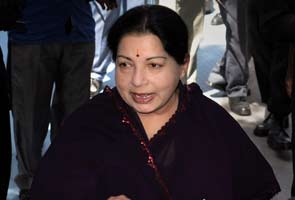 Chennai:
With a view to encourage youngsters to take up sports, the Tamil Nadu government today allotted Rs 25.05 crore to improve basic infrastructure facilities in rural areas of the state.
Chief Minister Jayalalithaa issued orders to allocate the amount to enhance infrastructure of sports in all 12,524 panchayats in Tamil Nadu, besides creating awareness of sports among youngsters and providing training, an official release said.
The government also announced an increase in the annual subsidy of Rs 1 crore to Rs 2 crore for the Chennai Open Tennis tournament, normally conducted every year.
The Chennai Open is slated to begin in January 2013. The Chief Minister has issued orders to increase the financial assistance from 2013, the release said.
Jayalalithaa also issued orders to hold contests for table tennis, swimming and tennis from 2012 onwards, along with basketball, handball, kabaddi and volleyball, under the "Chief Minister's Cup".
These contests would help athletes participate at National and International level competitions, besides enhancing the quality of the game, the release said.
To conduct the Chief Minister's Cup at district and state levels, Jayalalithaa issued orders to allocate Rs 1 crore, it said, in addition to a cash prize of Rs 1 lakh, Rs 75,000 and Rs 25,000 to be given to those securing first, second and third spots, respectively.