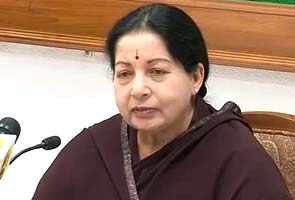 Chennai:
Tamil Nadu Chief Minister Jayalalithaa is speaking to the media in Chennai. Here are the highlights:
There have been comments made that it is duty of the state govt to maintain law and order.
As the Chief Minister of Tamil Nadu , my first priority is maintenance of law and order and ensure public peace.
Most people don't understand what is involved in maintaining law and order.
There has been a lot of hysteria about the movie in the media over the last few days.
Reckless, wild charges have been made.
Various Muslim organisations had submitted memorandum to the govt and met the Home Secretary and demanded a ban on Vishwaroopam.
They had also announced various demonstrations and there was apprehension that these protests could turn violent.
When Intelligence reports were received on possibility of violence, it would have been difficult to provide security to 524 theatres.
Actual strength of Tamil Nadu police is 91,000. If you deduct personnel required for special unit, we have 87,000 police personnel for a population of over 7 crore.
If intelligence tell us that there is likely to be trouble, govt would take preventive action.

The strength required for one theatre for three shifts is 60. So the manpower required for 524 is 31440.
In addition there has to be patrolling that would require another 11,000 police personnel.
In sensitive areas, we need additional pickets and need a striking force ready in each district. So all in all, if Vishwaroopam was released, the total manpower required would be 56440. However, there are just over 9000 personnel available.
It is the duty of the government to maintain law and order and prevent violent incidents from occurring. It is the duty of the govt to take preventive action and it is only in that spirit that we approached the issue.
There have been accusations against me of having private interests in this. Jaya TV does not belong to me and I do not own any shares in Jaya TV. It is a channel that supports AIADMK.
To say that there was a demand that the film should have been sold to Jaya TV is a wild reckless charge against the constitutional authority and we will take legal action.
Kamal Haasan has the freedom to air political views and if he wants a veshti clad politician as the PM then that is his opinion.
Mr Kamal Haasan doesn't select the PM.
Kamal Haasan has taken a calculated risk in making the movie, pledging all his property. How can the govt be responsible?
I know nothing about the movie personally, nor have i met any of the Muslim leaders agitating.
State govt has full powers to ban a movie. If I really wanted a ban, we could have it banned straightaway. We did not do that. Hence, it proves that this is not political vendetta.
Mr Kamal Haasan is not my rival in any way.
The reason why we did it under sec 144 is that tempers should cool down and both sides can come to an agreement.
Mr Kamal Haasan avoided showing the movie to the Muslim representatives .

Almost a month went by and there was again a delay in the release due to problems with theatre owners.

At the last moment on Jan 21 he showed movie to Muslim representatives and on 22 nd they decided that they did not want the movie released.
If the leaders of Muslim organisations and Kamal Haasan can work out an amicable agreement then the govt will do everything to facilitate that.
The decks could be cleared for screening the movie.
There were several violent incidents in Karnataka and Andhra Pradesh. Tthe film is banned in Singapore, Malaysia, Sri Lanka, Qatar, UAE . Am I responsible for it?
In Andhra there is a Congress govt, in Karnataka a BJP govt - it is ridiculous to blame me for whatever has transpired.
The threat to public peace, law and order is very real .
Muslims organisations called off agitations after govt announced prohibitory orders .
We have no intention of curbing freedom of speech or harming Kamal Haasan.