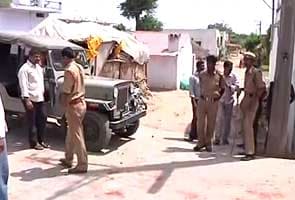 Kadapa, Andhra Pradesh:
The constituency of jailed politician Jagan Mohan Reddy is tense on account of clashes between his supporters and those of the opposition Telugu Desam Party (TDP).
Jagan Mohan, who founded the YSR Congress in memory of his father, is the Lok Sabha MP from Kadapa. YS Rajashekhar Reddy (YSR) died in a helicopter crash while he was chief minister in 2009. He was one of the Congress party's most popular leaders. His son quit his party after he was sidelined.
His supporters were allegedly being kept from campaigning by the TDP in Rayachota, which is 54 kms away from Kadapa, and votes for its representative to the state assembly on June 12. The elected representative, Srikanth Reddy , who was from the Congress, has switched loyalties to Jagan Mohan's party, provoking the need for a by-election. The police says that as clashes began between the TDP and the YSR Congress, Srikanth Reddy's security guard opened fire and a TDP worker was injured.
Jagan Mohan was sent to jail last month for a corruption case. He is being interrogated by the CBI and is scheduled to leave prison on June 11, just 24 hours before by-elections are held for 18 assembly constituencies and one Lok Sabha seat.