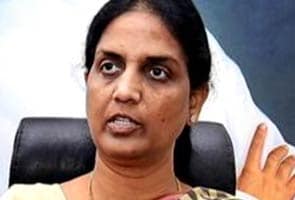 Hyderabad:
A special CBI court in Hyderabad has summoned Andhra Pradesh Home Minister Sabita Indra Reddy and 12 others accused in the
Jagan Mohan Reddy
disproportionate assets case and has asked them to appear before it on June 7. But Ms Reddy's party, the Congress, continues to back her and another minister named by the CBI in the case.
Sabita Indra Reddy has been named accused number four in the fifth chargesheet filed by the CBI. The other two ministers accused by the agency are Mopidevi Venkatramana and Dharmana Prasad Rao. While Mr Venkatramana resigned soon after his name came up and was arrested in May last year, the other two reportedly offered to resign, but were advised and persuaded by the Chief Minister and party colleagues to stay put. Andhra cabinet subsequently decided to back the ministers and provide them with legal assistance.
Speaking to NDTV last week, Chief Minister Kiran Kumar Reddy defended the ministers and said, "They acted according to procedure. Whether they benefitted personally, they have to explain in court." He also added that the state government's permission was needed to prosecute the ministers.
Opposition parties in Andhra Pradesh say it is unacceptable that those named as accused in the chargesheet continue in the Cabinet. Telugu Desam Party (TDP) chief Chandrababu Naidu met Governor ESL Narasimhan yesterday and demanded action against the tainted ministers. He also said the state government should not give them financial assistance to help them fight the cases against them.
Jagan's father, YSR Reddy, was chief minister when he died in a helicopter crash in 2009. The CBI says that he pressured large corporates to invest in Jagan's business empire; if they obliged, his government granted them licences and clearances they needed.
Sabita Indra Reddy was the Mines Minister in YSR's government. The CBI has charged her with misuse of office as a public servant. It says she allotted land in Kadapa district to Dalmia Cements who in return allegedly invested in Jagan's companies to the tune of 95 crore rupees.
Jagan quit the Congress in 2011 to form his own party, the YSR Congress, which has performed strongly in by-elections.