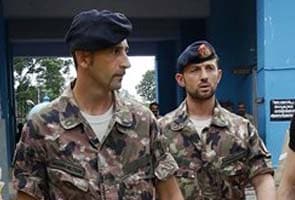 Thiruvananthapuram:
The two Italian marines accused of killing two unarmed Indian fishermen off the coast of Kerala have returned to Italy to spend Christmas with their families. They flew from Kochi airport at 5 am in a special aircraft, escorted by top Italian officials.
The two marines, Lattore Massimillano and Salvatore Girone, shot dead two Indian fishermen, Ajesh Binki and Gelastine, on February 15, allegedly taking them for pirates, and were arrested four days later.
Out on bail since May 30, the Supreme Court has reserved its judgement regarding the case involving the marines pending before it.
The marines have been made to file an affidavit saying they would return to Kerala on or before January 10, 2013, 3 pm. Italian officials have also deposited a bank guarantee of Rs 6 crore in the Kollam Magistrate Court.
Meanwhile, the victims' families have said that it is the responsibility of the Kerala government to ensure that they get justice.
Italy insists the marines should be prosecuted in their home country because the shootings involved an Italian-flagged vessel in international waters, but India says they took place in waters under its jurisdiction.
(
With inputs from agencies
)