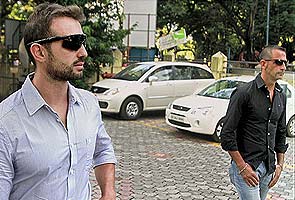 New Delhi:
Two Italian Marines, charged with killing two Indian fishermen, today lost their Supreme Court bid to be tried on home soil after the top court ordered that a special court should be set up for the trial.
The Supreme Court said today that Kerala does not have the jurisdiction over the two Italian Marines - Massimiliano Latorre and Salvatore Girone - and Centre should consult the Chief Justice of India before setting up the special court.
The top court also said that the jurisdiction of the trial, which is currently on at a court in Kollam, Kerala, should be considered by the special court - whether marines can be tried in India or Italy.
The Associated Press quoted the Italian Consul-General Giampaolo Cutillo, who said his government was satisfied with at least that small victory.
"The Supreme Court confirmed that Kerala has no jurisdiction in this case, which is basically what we maintained from the very first day," he said.
The Italian Marines were arrested on February 19 last year for shooting to death two Indian fishermen - Ajesh Binki (25) and Jelestine (45) - from merchant vessel 'Enrica Lexie' off Alapuzha coast, 'mistaking' them for Somali pirates.
Both the Marines and the Italian government had petitioned the Supreme Court to set them free. In their petitions, the marines argued that Kerala Police have no jurisdiction to register case against them as the incident took place in international waters and not in Indian waters.
The Centre has also toed the Kerala government's line by arguing two Italian marines enjoyed no sovereign immunity and were liable to face prosecution under the Indian laws.
The case came to Supreme Court after the Kerala High Court rejected their plea to be discharged from the case.
The two Italian Marines are currently out on bail and staying in Kollam. After the Supreme Court order today, the wife of one of the fishermen who was killed, told NDTV, "Whether in Kerala or outside, we want justice. We have lost a precious family member."
On December 22, the marines had left for Rome after the Kerala High Court permitted them to go for Christmas for two weeks. They came back on January 4.
(With inputs from agencies)