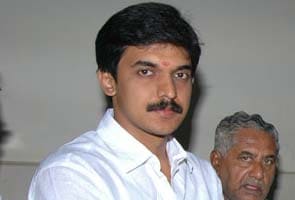 Bangalore:
Young and suave Priya Krishna, seeking re-election as Congress candidate from a city constituency for May 5 Assembly polls, has retained his status of the richest candidate with assets of over Rs 910 crore.
Mr Krishna, in the fray from Govindrajnagar segment, is among the candidates who have filed their nominations. His wealth was declared at Rs 765 crore in the 2009 Assembly bypoll.
29-year-old Mr Krishna is the son of realtor-politician M Krishnappa, better known as "Layout Krishnappa", who is a sitting MLA from Vijayanagar in Bangalore.
According to the declaration before the poll authorities, the over Rs 910 crore assets include movable assets worth Rs 815 crore and the remaining constitute immovable assets.
Going by his affidavit, most of Mr Krishna's immovable assets are "gifted".
A firm believer in numerology, all his private cars bear the registration number of '9279', which have been registered in different Regional Transport Offices in Bangalore.
The liabilities of the avid golfer are huge too. His liabilities of over Rs 777 crore include Rs 703 crore towards "sundry creditors".
An M.A. in political science from Mysore University, Mr Krishna actively participated in campaigning during the 2004 Parliamentary Elections, 2008 Assembly elections, and 2009 Parliamentary elections.
A prominent golfer, Mr Krishna represented Karnataka in the 2001 National Games held at Punjab.
An active member of Karnataka Pradesh Congress Committee since 2003, he claims to have been trying to inculcate a sense of social and political responsibility amongst the youth.