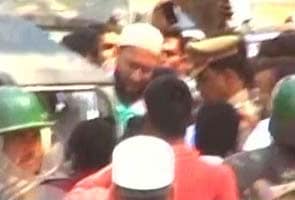 Sangareddy, Andhra Pradesh:
Asaduddin Owaisi, Lok Sabha MP from Hyderabad and head of the Majlis-e-Ittehad-ul Muslimeen (MIM) party, has been granted bail by a local court in Sangareddy. He had surrendered on January 21 and had been sent to jail in connection with a case filed against him in 2005.
Asaduddin got bail on a personal bond for Rs 10,000 and two sureties of the same amount. The court asked him to reappear in the case on February 2.
A non-bailable warrant had been issued against the politician for repeatedly failing to show up in court. The case against him was filed eight years ago by the local police in the Medak district after his younger brother and others allegedly assisted him in preventing local officials from widening a section of the Hyderabad-Mumbai National Highway near a mosque. Asaduddin Owaisi had been accused of criminal intimidation and promoting enmity on religious grounds.
Mr Owaisi's brother, Akbaruddin, was arrested earlier this month in Hyderabad for allegedly delivering a hate speech last month. He has been charged with spreading communal hatred and waging war against the state. Akbaruddin Owaisi is an MLA in Andhra Pradesh.
The arrest of the Owaisi brothers around the same time came as a setback to their party, but the leaders are expected to paint it as a conspiracy by the ruling Congress, from which the MIM severed ties last year.
(With inputs from agencies)