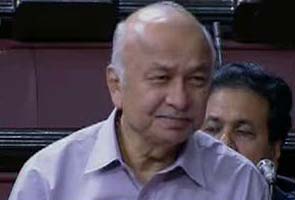 New Delhi:
The government is in favour of National Counterterrorism Center (NCTC).
When such incidents happen, the entire police force is at work there. They have to collect evidence. If VIPS go there then the investigation hampered.
One cannot give all the information about such incidents soon after it happened. Investigation needs to be done.
There have been two terror strikes in 2012 - through effective border management and border fencing.
MAC has been established as has been NATGRID.
We have been alert for the past 3-4 days - I can't share details.
We shared information immediately - specifically to five cities ... usually such info is given to DGPs.
I am confident if all of you come together, this could be the last such incidents.
We are taking tough steps. I will find out which senior officer was not there on the spot in Hyderabad.
On intelligence sharing, whenever a report goes it is many times taken lightly.
The Centre's reports every 10-15 days would ask states to be alert now with NATGRID reports are more specific and we don't have a problem sharing intelligence.
On CCTV, I believe that wherever there are cameras, we have the footage and we are using it to nab the culprits... like we did in the rape case in Delhi.
The way the House has spoken, we will be firm and act rather than speak. We will take the strictest possible action, and we promise to work harder to root out terrorism.