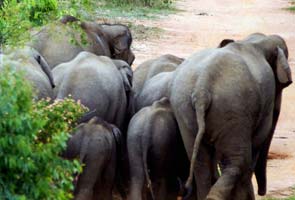 Bangalore:
A herd of 15 wild elephants migrating from Malur to Hoskote in Karnataka trampled a photographer to death when he went too close to get a picture. Manjunath, a 22 year old photo journalist apparently got too close to a lake which the elephants were crossing.
"About 50 officers and guards entered the forest around Huskur lake near Sarjapur (on the outskirts of southeast Bangalore) to drive the herd back into their corridor across the Karnataka-Tamil Nadu border from where they strayed on Saturday in search of grass and water," state's Principal Chief Conservator of Forest Brij Kishore Singh told IANS here.
The growing man-animal conflict surfaced again when the herd came out of the forest in the absence of their staple food (grass and bamboos) along their corridor and water bodies drying up due to drought for the last two consecutive years.
"The elephants would have walked about 40 km a day to enter the banana plantations that have mushroomed on the fringes of the forest to hide in search of paddy fields. Once they develop taste for bananas and paddy grass, they don't like to go back into the dry forest as they have to find enough food to survive and feed their calves," Singh said.
The forest officials and guards had to first chase away hundreds of curious onlookers and villagers who gathered around the area earlier in the day on spotting the herd and tried to provoke them by shouting, screaming and throwing stones and sticks on them.
"Being wild and over cautious to protect their calves, the herd stayed put in between the shrubs and woods to guard against any attack on them by the crowds. We are also told fire crackers were burst to scare them away, which is unfortunate," Singh noted.
According to state Forest Minister Ramanath Rai, the herd had entered the state from the border village of Berake in Tamil Nadu a fortnight ago and trampled four people to death en-route at Malur in Kolar district whey they tried to drive them away from fields.
"We are doing our best to see they go back from where they came from or proceed towards Bannerghatta forest or Krishnagiri forest in Tamil Nadu, which is part of the long elephant corridor between the two states," Rai told reporters.
Another herd of dozen elephants was sighted at Anekal Sunday on the outskirts of Bannerghatta forest as they came out in search of food and water in the nearby lakes and ponds.
"Though we succeeded in moving the herd from the spot towards the forest, they halted after walking for a mile. We are watching them from a distance using lights and binoculars. We are hoping they would go walk back during the night," senior conservation officer Deepak Sharma told IANS from the spot.
As a precautionary measure, the forest department is bringing five tamed elephants from Mysore, about 140 km from here, to deploy them along the fringes to escort their wild counterparts into the forest.
"We are against human intervention in regulating the movement of wild elephants as they are wary of our presence and turn dangerous, attacking anyone in defence. We hope people living in the villages and on the forest fringes will cooperate with us," Singh added.