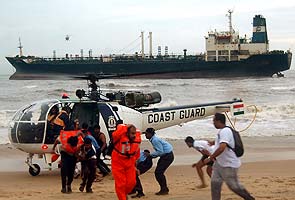 Chennai:
The family of one of the sailors who died while trying to abandon a ship stranded off the coast of Chennai by cyclone Nilam has filed a petition in court alleging that the vessel was not sea-worthy and had no food or fuel on board. This comes amid allegations that the Coast Guard ignored distress calls by the ship, MT Pratibha Cauvery.
The family has also demanded an interim compensation of Rs 25 lakh and an eventual payment of Rs 1 crore in its petition. Following this petition, the Madras High Court has ordered that the ship not be moved from its current location, off the Besant Nagar beach. An emergency tow vehicle though is on its way to Chennai to pull out the ship when it can.
The bodies of three of the five missing sailors were recovered today. Two of them had washed ashore, one near the Chennai Harbour and one at Adyar estuary. The third was found at sea. One continues to be untraceable, despite the Coast Guard's search and rescue missions.
On Wednesday afternoon, 22 crew members abandoned the ship in a life boat to reach the shore. 16 made it, but one of them drowned and five of them went missing. Coast Guard helicopters rescued the remaining 15 sailors trapped on the ship on Thursday morning. The initial rescue operations on the day of the cyclone were carried out by fishermen.
The ship's captain has said that he had sent out a distress call but got no response. The Chennai port had received the distress call and passed it on to the Coast Guard. Officials of the Coast Guard, however, said that the sea was rough on the cyclone day and rescue wasn't possible.
Chennai Port officials also said the ship's captain had ignored instructions to leave for safe waters following the cyclone alert.