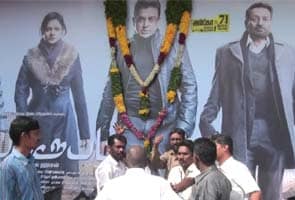 Chennai:
The chief minister of Tamil Nadu J Jayalalithaa ardently defended a ban on Kamal Haasan's film
Vishwaroopam
, but indicated that the mega-budget thriller could be inching towards a happy ending.
At a press conference, Ms Jayalalithaa said the two-week ban was not intended to curb the actor's freedom of expression or free speech, but was necessary to maintain law and order after Muslim groups who had objected to the film warned that they would protest outside cinemas where the movie was screening. The police force could not have been asked to guard each of the over 500 cinemas booked for
Vishwaroopam
, she said.
(Watch: Jayalalithaa defends ban on Vishwaroopam)
"If the leaders of Muslim organisations and Kamal Haasan can sit together and work out an amicable agreement, the government will do everything possible to facilitate that ... and the deck will be cleared for screening the movie," she said.
Key Muslim groups like Tamil Nadu Tauheed Jamaat (TNTJ) have welcomed Ms Jayalalithaa's announcement. The TNJT has said it will not protest against
Vishwaroopam
if objectionable scenes are removed.
Yesterday, Kamal Haasan announced that after a meeting with Muslim leaders, he had agreed to delete scenes and words identified as contentious.
The chief minister's suggestion that this could be an acceptable exit from the controversy is the opening that the beleaguered actor-director indicated he was waiting for this morning when he shared that he had deferred his decision to fight against the ban in the Supreme Court.
Before flying to Mumbai, where the film releases in Hindi tomorrow, Kamal Haasan told reporters, I am hurt but calm."
(Read)
"I still have hope that things may be settled with the Tamil Nadu government," he said.