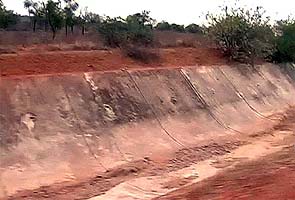 Hyderabad:
At a time when farmers are driven to suicides because there is no water, in the Warangal district of Andhra Pradesh at least Rs 10,000 crore have been spent on a lift irrigation project that after 10 years still lies idle most of the year. Hardly three months in a year, after the rains, there is water inflow and even that can be lifted and supplied only if the water level at intake point is 74 metres and if power is available.
The Devadula lift irrigation project on the river Godavari was part of the late YSR Reddy's ambitious 'Jala-yagnam' to irrigate six lakh acres in the four drought-prone districts of Telangana. This is the biggest such project in India and second biggest in Asia.
When we visited the project site travelling through several kilometres of forest area, we found all the motors silent, even though the first and second phase have already been completed. The only activity was some work underway on the third phase, spending hundreds of crores of rupees more, being implemented by yet another contractor. Whether or not water and power are available to make the machines work seemed nobody's concern.
Experts estimate that supplying water from here through lift irrigation costs up to 22 thousand rupees for an acre. G V Ramanjaneyulu, agriculture scientist says that is too expensive ecologically and financially.
Farmers in the area say that everyone, including officers in the union water resources ministry and project engineers on the ground to farmers knew that the project was not going to be successful.
74-year-old Madanaiah says both the TDP and the Congress pushed for Devadula project, arguing that it would be a lifeline to Telangana. "So what if it is exorbitantly expensive is what they said. The real reason is that big projects mean commissions for leaders and contractors. Experts had said this simply won't work, because this place has neither water nor power.''
Even the Comptroller and Auditor General in his report on finances in 2011-12 had sharply criticised the Jalayagnam projects saying they were ill-conceived and driven by urgency to award contracts and that the benefit-cost-ration was inflated to suit contractors. In many cases, technical sanctions were got after the bidding.
Ironically villages in the neighbourhood, less than 10 km from the Devadula project site, only one crop grows in a year because there is no water. They have to dependent on rainfed conditions and on groundwater that has to be brought up by a borewell. If water was available, farmers would grow upto three crops an year.
In a classic case of putting the cart before the horse, civil works like canals have been built over several hundred kilometres, even before the project is completed. So no water flows but thousands of crores of rupees have flown literally down the drain.