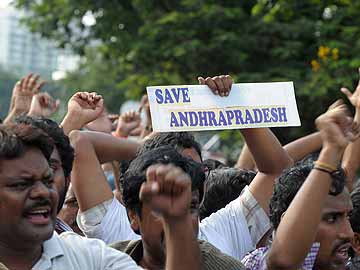 Hyderabad:
In a new and humiliating blow for the Congress, six of its parliamentarians have said the union government must take a trust vote. The law-makers, all from Andhra Pradesh, want to embarrass the party over its decision to split Andhra Pradesh and carve out the region of Telangana as India's 29th state.
The six MPs have written to the Lok Sabha speaker, Meira Kumar, seeking a no-confidence vote for "the union council of ministers" which last week said that the new Telangana state will have 10 districts. (
Read letter
)
Those who've signed the letter are trying to galvanize support among other members of Parliament who are opposed to the bifurcation of Andhra Pradesh.
Any move to bring a no-confidence motion requires the support of about 50 MPs or roughly 10% of the Lok Sabha.
Since it first announced state-hood for Telangana in 2009, the Congress has been whip-lashed by angry protests from the two other regions of Andhra Pradesh who are opposed to the division largely because of concerns over the sharing of water, power and other resources.
Rayalaseema and Coastal Andhra with their 13 districts will form the residuary state. For 10 years, Hyderabad, the booming IT hub at the heart of Telangana, will be a shared capital between the old and new states.
Andhra Pradesh, with its 42 parliamentary seats, is strategically crucial for the national election, due by May. Telangana will have 17. The Congress hopes to sweep the region because of its decision to sanction statehood.