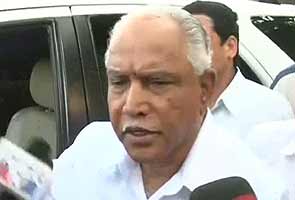 New Delhi:
Former Karnataka chief minister B S Yeddyurappa has finally decided to go ahead and quit the BJP, top party sources have revealed to NDTV.
The party had been trying to make him stay, since the state elections are due next year and he is a power leader of the Lingayats, the largest community in the state. Sources say that he was being offered to head the party in Karnataka, but he has declined. The party is, however, still trying to persuade him, sources added.
Mr Yeddyurappa had announced the launch of his party, the Karnataka Janata Party, due in the beginning of December. It was under him that the BJP got its first government south of the Vindhyas.
He has been threatening to leave the BJP ever since he was removed from the CM's position after being accused of being involved in a massive mining scam as well as other corruption scandals.
He made several attempts to return to the Centre of BJP's politics in Karnataka as well as the CM, but he was not entertained by the party's leadership.
If Mr Yeddyurappa does exit the BJP this time, the party is likely to be hit quite hard. It's not just that he is a Lingayat leader, the Vokaligas, who are the second largest community in the state are also unhappy with it. Concentrated in the south of Karantaka, the Vokaligas are upset with the BJP government's handling of the sharing of Cauvery river waters with Tamil Nadu.