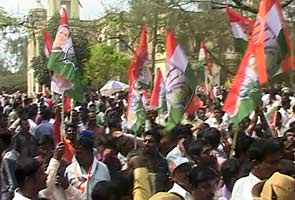 Bangalore:
In a blow for the ruling BJP just two months before Assembly elections are held in Karnataka, the Congress has won big in the state's urban local body elections, bettering its 2007 numbers. The big flop of the election - BS Yeddyurappa.
The Congress has bagged 1909 of the 4976 wards, while the BJP and the Janata Dal-Secular have both secured 906 seats each. Mr Yeddyurappa's Karnataka Janata Party has managed only 272 seats. The man who had won the BJP its only southern state five years ago, quit his party of 40 years in December last year to launch his new party.
The BJP, which fears serious erosion of equity because of the Yeddyurappa rebellion, will seek to draw consolation from its 2007 experience. Then too it had come in at number 3 after the Congress and the JD-S in the urban body elections. But a few months later, it had won the state Assembly elections.
Also, the ruling party draws it support more from the rural areas of the state, while the Congress usually does well in urban centres. But an exultant Congress told the BJP today not to hold its breath. "The rural voter will also vote for us. It is an indication that people are fed up of the BJP," Congress leader Revanna said.
Mr Yeddyurappa, whose consistent rebellion over the last year and a half has clearly whittled away at the BJP's base, failed to demonstrate influence anywhere save in Gulbarga, where his party has won seven wards.
In Mysore, of 65 seats, the BJP has managed to win only 11, while the Congress and JD(S) have won 15 seats each.
(Read: Defeat is 'alarming', says BJP)
In Bellary, home to the powerful Reddy brothers of the BJP, the Congress has grabbed a whopping 21 of the 35 wards. Interestingly, B Sriramalu - a former minister close to the Reddy brothers and who bore the brunt of a political controversy that hit them - has done well in the few seats his new party the Badava Shramita Raithu (BSR) fought.
Elections were held last week to local bodies in seven major towns of Karnataka, Mysore, Mangalore, Hubli, Dharwad, Gulbarga, Belgauma and Davanagere. Municipal elections are held in a different cycle in Bangalore. The BJP controls Bangalore's civic body.