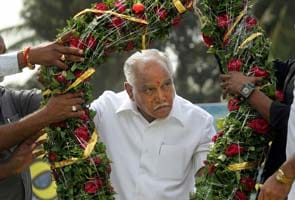 Bangalore:
A week after snapping his four decade old association with the BJP, former Karnataka Chief Minister BS Yeddyurappa today dubbed it 'a bigger evil' than Congress and Janata Dal Secular (JDS) and vowed never to return to his former party.
"It is 100 per cent. BJP is a bigger evil than Congress or JDS", Mr Yeddyurappa, who is set to formally launch his regional outfit Karnataka Janata Party at Haveri on December 9, said.
The 70-year-old former BJP strongman, credited with bringing the first ever BJP government to power in south India, said in reply to a question "I will not return to my previous party under any circumstances in my lifetime".
Mr Yeddyurappa, a product of the Rashtriya Swayamsevak Sangh (RSS) stable, said he has distanced himself from its ideology and is now wedded to the principles of Mahatma Gandhi, Ambedkar and Jayaprakash Narayan.
He however, did not forget to recall his association with the BJP and said "the party has given me everything right from the post of president of a municipality to Chief Minister. I have also sacrificed everything for the party. When there was talk that the BJP cannot come to power in the south, with the help of workers, I brought it to power".
Training his guns on some detractors in BJP, he said "conspiracies were hatched against me when I was leader of the opposition in 2004. They did not want me continue in that post. It continued when I became Chief Minister also".
Mr Yeddyurappa claimed support of 50 to 55 BJP MLAs and 12 MPs.
He dared BJP leaders, including Chief Minister Jagadish Shettar, to take action against his supporters at the cost of his government.
"I made a mistake in making Mr Shettar Chief Minister. But I do not want to topple it and face allegations that I was responsible for it. Hence I am maintaining restraint", he said defending his decision not to rock the government.
Blaming BJP's national general secretary HN Anant Kumar for the party's 'upheaval' in Karnataka, Mr Yeddyurappa charged him with helping mining baron Janardhana Reddy who wanted to oust him. "He made at least two such attempts. Some party leaders also supported him".
On the dissidents' rebellion led by Mr Reddy in 2010, he claimed Anant Kumar had been toying with the idea of becoming Chief Minister. "Mr Kumar projected Jagadish Shettar as my replacement, but tried to occupy the chair and did not succeed," he said.
Mr Yeddyurappa said Mr Kumar tried his best when Sadananda Gowda was made Chief Minister and was again keen to get the post after Mr Gowda was replaced by Mr Shettar.
He lashed out at BJP for its 'betrayal' and recounted an incident about four months ago during which the high command deputed Dharmendra Pradhan, in-charge of Karnataka affairs and RSS functionary Santosh for talks with him.
He said he had told them he would, if they wished, issue a statement he would not be chief ministerial aspirant after the 2013 assembly polls and they could nominate anyone for the post. He had even said he was ready to not contest the polls.
However they did not revert to him after going back to Delhi.
Mr Yeddyurappa recalled Mr Gadkari promised him the state unit president post the day after he quit as the Chief Minister and that post when he was cleared of corruption charges by the court. However nothing came of the promises.
He feels that the political situation in Karnataka was now ripe for regional parties to play a bigger role and said KJP would fit this bill. "After the next election, I am sure KJP will come to power. I will lead the party and will be party President," Mr Yeddyurappa said.
Mr Yeddyurappa claimed the KJP would also play a dominant role in the next Lok Sabha poll because of its presence in the state. He refused to buy the argument KJP has no presence in south Karnataka and claimed there are multiple aspirants for KJP tickets in each constituency and names for 100 are ready.
He refused to react when asked which party is KJP's opponent in the 2013 assembly election, stating "it is too early to say. But I have support from all sections, including minorities".