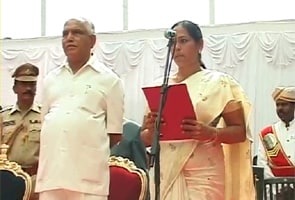 Bangalore:
Fourteen legislators of the ruling BJP, loyal to former party strongman BS Yeddyurappa, today attempted to resign from the assembly at the Speaker's office and insisted that the state government had been reduced to a minority.
The legislators were led by Public Works Minister CM Udasi and Power Minister Shobha Karandlaje, who resigned earlier in the day. They reached Speaker KG Bopaiah's office at Vidhan Soudha, the state secretariat, with hand-written resignations.
Among the legislators are CM Udasi, Nehru Olekar, Thippeswamy, BP Harish, H Halappa, Suresh Gowda Patil, Shobha Karandlaje, SI Chikkangoudar, Suresh, G Shivanna, Chandrappa, VS Patil and Basavaraj Patil Attur.
Neither Mr Bopaiah, who is out of Bangalore, nor the Assembly Legislature Secretary Omprakash were present when the legislators arrived. After waiting for about an hour, they insisted that officials of the secretariat receive their resignation letters or give an acknowledgement that they did not have the authority to receive them.
Joint Secretary Jayatheertha Galali told the legislators to submit their resignations to the Speaker when he was back.
The situation escalated as Mr Yeddyurappa, who quit the BJP last year to launch the Karnataka Janata Party, arrived at the Vidhana Soudha.
"The Jagadish Shettar government has been reduced to a minority. He has no moral right to continue. The chief minister should call off his tour, return to Bangalore and resign," he demanded.
Mr Yeddyurappa also targeted the Speaker, saying he had been alerted yesterday about the resignation of the legislators but had left on a tour.