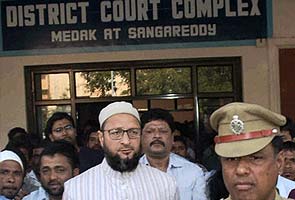 Hyderabad:
Asaduddin Owaisi, a Member of Parliament from Andhra Pradesh, has been sent to a jail in Hyderabad. He surrendered in a court earlier today in connection with a case filed against him in 2005, and applied for bail. His petition will be heard tomorrow.
A non-bailable warrant had been issued against the politician for repeatedly failing to show up in court. The case against him was filed eight years ago by the local police in the Medak district after his younger brother and others allegedly assisted him in preventing local officials from widening a section of the Hyderabad-Mumbai National Highway near a mosque. Asaduddin Owaisi had been accused of criminal intimidation and promoting enmity on religious grounds.
Mr Owaisi's brother, Akbaruddin, was arrested earlier this month in Hyderabad for delivering a hate speech last month. He has been charged with spreading communal hatred and waging war against the state.
Both brothers belong to the MIM or Majlis-e-Ittehad-ul Muslimeen party.