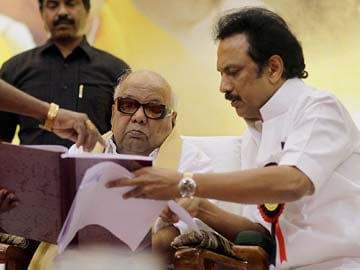 Chennai:
It was, once again, laundry day for the first family of Tamil Nadu politics. DMK chief M Karunanidhi, elaborating on his decision to suspend his elder son from the party said that "Alagiri had complained against Stalin using harsh language. He even said Stalin would die in a few months. How can a father tolerate this?"
Mr Alagiri, 62, was suspended last week by his father for indiscipline. For years, Mr Alagiri has expended his energy on undermining his younger brother, MK Stalin, who has been chosen as his father's political successor. Recently, Mr Alagiri took to television interviews to oppose an alliance that his brother was trying to develop between the DMK and another regional party, the DMDK. (
Read
)
"I don't know why Alagiri has nurtured so much hatred against Stalin," said Mr Karunanidhi, 89, about the extreme sibling rivalry that has spawned competing camps within the DMK.
Mr Alagiri expressed shock at his father's comments. "I take his allegations as my birthday gift," he said. Last week, he had said he would decide on his next course of action after consulting his supporters. (
Read more
)
In 2009, the DMK was part of the UPA coalition that won the general election; Mr Alagiri was deputed to Delhi as a union minister. His removal was key to his father's plans to promote Mr Stalin as the man who would someday take over from his as president.
The next year, Mr Karunanidhi had to abandon his retirement plans after Mr Alagiri made it clear that he would not accept his younger brother as party chief. Mr Alagiri said that an election should be held for the top job, and that he would contest it.
In 2011, the DMK lost the state election to J Jayalalithaa and her party, the AIADMK.
In March last year, the DMK pulled out of the union government, accusing India of not demanding strong action against the Sri Lankan government for its alleged atrocities against ethnic Tamils.