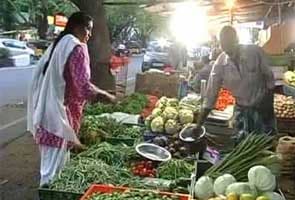 Chennai:
Her promise to give away free mixer-grinders and televisions to poor families helped power her election as Chief Minister two years ago.
With national elections due in the next few months, Jayalalithaa's giving away a whole lot more. Including mineral water that's named after her.
In February, she launched discounted canteens where breakfast
idlis
can be bought for just a rupee. On Thursday, she launched 31 outlets in Chennai that will sell vegetables at heavily-discounted rates.
Starting September 15, Amma Mineral Water will be available for Rs 10 a litre; commercial brands are nearly fifty per cent more expensive. Even the Railways, Ms Jayalalithaa says, sells at Rs 15 a litre.
(Read: How Jayalalithaa will provide Amma mineral water)
Officials say vegetables that are being purchased and distributed by the government at special shops will be nearly 50 percent cheaper than elsewhere because produce is being brought directly from farmers. "We eliminate middlemen who push prices up and so we pass on benefits to customers," one official told NDTV.
On Day 1, the government's veggies were indeed good for you. Tomatoes, beans and cabbage were nearly half the price at these air-conditioned outlets. Onions and brinjal were also heavily discounted.
(Read)
Sales added upto five lakhs on Wednesday.
"Wow! Tomato, onion, capsicum, beans... whatever I buy is forty percent cheaper here," said a delighted entrepreneur, Kamalam Moorthy.
The state government has, so far, spent nearly Rs 5,000 crore on its mixer-grinder freebies. The state government showed a deficit of Rs 22,938 crore last year.
Case closed, as far as the government is concerned.