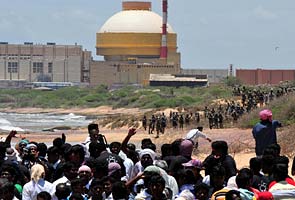 Tirunelveli (Tamil Nadu):
The areas around Kudankulam Nuclear Power Plant in Tamil Nadu, which have seen 500-day-long agitation against setting up of the nuclear plant, will witness a different event today, on the New Year's Eve.
People from various walks of life from across the country will be joining local people of the coastal villages like Idinthakarai near Tirunelveli to bring in the New Year, along with the peaceful struggle of the people of the region.
A large number of people, including activists like Dr Binayak Sen, Prashant Bhushan and Admiral (Rtd) L Ramdas and groups, from West Bengal, Jharkhand, Chhattisgargh, Uttar Pradesh and Delhi have reached the village to "salute" the "valiant" struggle of the people, People's Movement Against Nuclear Energy Convenor S P Udayakumar said.
Mr Udayakumar thanked all the people who travelled long distance to come to Idinthakarai, to spend the New Year Eve with the locals and said the protest launched in August last year demanding scrapping of the project over safety concerns would continue till their "last breath".
He also said that the activists would address the media from the Lourde Matha Church premises at 3 pm today.
The 1000 MW first unit of the project is expected to be commissioned soon.